Hospital Cardiac Malpractice Lawsuit Against Mercy Medical Center
Dixon v. Mercy Medical Center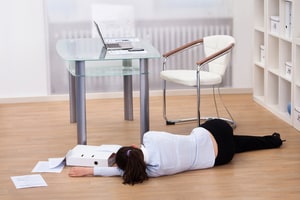 This hospital malpractice lawsuit was filed on behalf of a woman in Baltimore City after she suffers cardiac arrest due to the failure to properly and timely diagnose and treat the woman. It was filed on April 12, 2017 in Health Claims Arbitration, and is the 171st medical malpractice case filed in Maryland in 2017.
Summary of Plaintiff's Allegations
A 52-year-old woman goes to the ER at Mercy Medical Center with nausea, vomiting, diarrhea, shortness of breath, sweats, weakness, dizziness, lightheadedness, and abnormal breathing. She has a history of high cholesterol and hypertension. Three hours later, the woman is finally taken to the exam room where she waits for a physician to see her.
A few hours later, an IV line is placed and the technician draws her blood. She is given Zofran, which is contraindicated in patients with prolonged heart rhythm disorders. When the physician sees her, he also orders Reglan to be given every 30 minutes, which is also contraindicated with patients with prolonged heart rhythm disorders as it can increase the risk of sudden death.
Less than 30 minutes after she is finally evaluated by the physician, the woman's eyes roll back into her head and she has seizure-like activity, becoming unresponsive. She is assisted back to her bed from the bathroom, vomiting and pale. She is placed on the cardiac monitor and an EKG is ordered and she receives more Zofran.
Ten minutes later, another seizure-like episode is observed by the woman's daughter. When defendants arrive in the room, the woman's respirations have slowed and her oxygen levels dropped. She is intubated and goes into cardiac arrest. Defendants attempt to resuscitate her but are unsuccessful, resulting in her death.
Additional Comments
When you go to the crowded ER, how long you wait may depend on your Emergency Severity Index (ESI). In the emergency room, nurses are responsible for setting patient triage levels according to the ESI. The nurse assesses a patient's condition by assigning the patient a number: 1- resuscitation, 2-emergent, 3-urgent, 4- less urgent, 5-nonurgent. Plaintiff's expert claims the nurse erred in failing to triage the decedent as an ESI 2. Usually, when you go into the ER with seemingly cardiac related complaints, you get prompt attention.
There are 7 wrongful death beneficiaries in this case, presumably the woman's husband and children. Maryland wrongful death cap for pain and suffering damages in medical malpractice cases increases if there are two or more beneficiaries. Does it increase more when they are more? It does not. But it should.
Jurisdiction Defendants
Mercy Medical Center
An emergency medicine doctor
Hospitals Where Patient was Treated Negligence
Failure to appreciate the gravity of the patient's illness
Failure to take a proper and thorough history and to triage the patient
Failure to place a potential cardiac condition as the cause of the patient's symptoms
Failure to immediately place patient on cardiac monitor upon arrival in the ER
Failure to place the patient on a continuous cardiac monitor the entire time in the ER
Failure to order and perform EKG's and lab work
Failure to properly interpret the EKG and to timely order a cardiology consult
Failure to place the patient on proper cardiac medications, and inappropriately administering anti-emetic medications in light of EKG findings
Specific Counts Pled
Medical Negligence
Wrongful Death
Plaintiff's Experts and Areas of Specialty Getting a Lawyer for Your Hospital Malpractice Claim
Call Miller & Zois today at (800) 553-8082 if you have been injured due to the negligence of a doctor or hospital staff. We have a long history of obtaining large verdicts and settlements in hospital malpractice cases. You can also get an online case review.
More Malpractice Claim Information
Other malpractice cases filed against Mercy Medical Center in 2017:
Read about a case filed against Express Primary Care after doctors fail to diagnose a man's pulmonary embolism, resulting in cardiac arrest and death