Wrongful Death Nursing Home Negligence in Baltimore County
Lyon v. Chestnut Village, LLC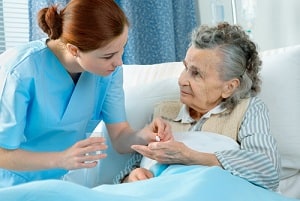 This wrongful death nursing home negligence lawsuit was filed on behalf of a woman in Baltimore County. It was filed in Health Claims Arbitration on April 5, 2017, and it is the 159th medical malpractice case filed so far in Maryland this year.
Summary of Plaintiff's Allegations
A woman is transferred from the independent living area to the comprehensive care unit at Chestnut Green Health Center Blakehurst. This is a small nursing home with just 42 beds. It has a near perfect rating from Medicare.
The woman has vascular dementia, an eye disease associated with vision loss, glaucoma, hearing loss, gait disturbance, and coronary artery disease. She is at a high risk for both falling and wandering.
Over the course of the first month and a half that she is in the comprehensive care unit, she escapes at least six times to return to her apartment in the independent living section. One morning, she is found lying on the floor in the doorway to her apartment after falling. A week later, she is found sitting on the floor and notes are made in her file to monitor her more frequently due to fall risk.
She exhibits a pattern of agitation for the next month and she is unsteady. She falls in the lounge area and has pain in her left hip. Another day she is found on the floor in front of her bedside chair. She is crying and sent to Greater Baltimore Medical Center where she is found to have a left hip fracture. She has surgery to repair the fracture, but during her hospital stay, she develops hypoactive delirium (restlessness, hallucinations, and agitation).
Four days after she is taken to GBMC the woman returns to Blakehurst. She is incontinent of stool, develops a UTI and a skin alteration, and has discomfort in her buttocks area. A few days later, an evaluation note documents that due to the fall before her hospital visit, she will not be able to regain her prior functional level.
A month later she is left alone in her room and she falls. Again, she breaks her left hip. But this time, the fracture is inoperable. She develops persistent pain and is transferred to hospice care. She dies four days later. The cause of her death is "hip fracture complications resulting from a fall."
Her Estate files this claim, alleging that defendant's negligence in not monitoring and properly caring for the woman resulted in her death.
Additional Comments
In nursing home case fall cases, you want to prove by specific negligence and a failed system. The allegations suggest there could have been some mistakes in caring for this woman.
The Complaint alleges that the woman was left alone when she fell the second time, leading to her death. The details of the fall are going to be important as will the protocols in place to protect this woman. Simply being left alone is not negligence until she required 1-on-1 care, which is extremely difficult care to provide.
Plaintiff's attorney did not name an expert with the Complaint. Usually, that is the best source of determining the merits of the case. The specific acts of negligence the nursing home expert points to in this case will be critical.
Jurisdiction Defendants
The Chestnut Partnership, Blakehurst
Chestnut Village, LLC
Chestnut Partnership, Chestnut Green Health Center
MB Services, LLC, MB Homecare
Hospitals Where Patient was Treated
Greater Baltimore Medical Center
Negligence
Failure to provide sufficient numbers of qualified personnel to meet needs of residents
Failure to adequately assess, evaluate and supervise personnel
Failure to perform proper patient assessments and develop appropriate care plans
Failure to provide, monitor, and modify patient's care plans
Failure to perform physical and psychological examination of patients
Getting a Lawyer for Your Nursing Home Negligence Claim
If you or a loved one have suffered due to the negligence of a doctor or nursing home staff, our firm can help you. Call us today to speak to a nursing home negligence attorney who can help you at (800) 553-8082. You can also get an online case review.
More Malpractice Claim Information
A case against Stella Marris, also in Baltimore County, filed after a woman falls at the facility and also develops an infection resulting in her death
Read about some other nursing home cases filed in different jurisdictions in 2017: