Psychiatric Malpractice in Annapolis
Anonymous v. Anne Arundel Medical Center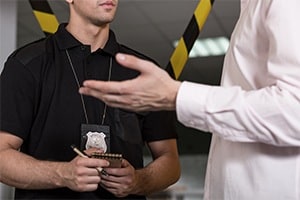 This psychiatric medical malpractice lawsuit against Anne Arundel Medical Center was filed by a man in Anne Arundel County on March 13, 2017. It is the 120th medical malpractice case filed in Maryland in 2017.
Summary of Plaintiff's Allegations
After being married to his wife for eighteen years, plaintiff has recently gone through a three-year separation and divorce. Additionally, he has lost access to his minor children and lost his business of managing rental properties. He is now unemployed. He assaulted by his ex-wife's new boyfriend. He filed for bankruptcy. This is an incredibly bad stretch for anyone, obviously. He develops symptoms of anxiety and depression.
The man goes to defendant Anne Arundel Medical Center for treatment of an exacerbation of his severe depression, complicated by suicidal ideation. He is admitted for a psychological evaluation. He meets with defendant social worker and recounts his life since his divorce, including the thoughts leading him to seek immediate help. He denies suicidal thoughts (the Complaint is confusing in this regard) and indicates no history of violence except his wife's new boyfriend. (But the doctor's notes suggest otherwise which is going to be a big bone of contention in this case.)
Defendants declare the man significantly mentally impaired and give him a medical rating indicating that there is danger of harm to the patient or others. Defendant records that the man indicates he wants to kill his ex-wife, the judge who took his children, and the lawyers involved. The social worker leaves a brief comment in the notes indicating he consulted with his supervisor, another defendant, and a nurse, who agree that he should contact the police.
The police are contacted, despite the criteria needing to be met to justify a Public Safety Exemption disclosure. To justify disclosure of a patient's information, there needs to be an imminent threat. The plaintiff alleges that since he is unarmed and confined in a locked psychiatric treatment, there is no opportunity or means for him to be an imminent threat.
When the police arrive, they speak with the medical staff. The staff discloses confidential information to the police and place the man in a locked psychiatric room without a witness or legal counsel.
Plaintiff requests to be discharged from the facility. However, the doctors consult with each other, and decide that he should be involuntarily committed. Plaintiff alleges that some of the doctors who signed the certifications for involuntary commitment did not personally examine or observe the plaintiff.
The plaintiff is transported from the hospital to Sheppard Pratt, a psychiatric facility, for involuntary commitment. An inpatient social worker at Sheppard Pratt speaks with police about the man's "vague" "threats," and police request that they be notified when the man is released from involuntary confinement, absent legal or criminal action pending.
After an extensive psychological evaluation, plaintiff is diagnosed with major depression and is found to be mentally incompetent. He gets prescriptions for psychiatric medications and attends both therapy and counseling session. Two days later, the police arrive to question him with approval of the attending psychiatrist but without notice to the plaintiff.
During the interrogation, plaintiff is under the influence of psychiatric medications and is involuntary confined. He is not informed of his right to seek legal counsel or legal guardian. The plaintiff provides the name of the judge from his divorce proceedings and the police obtain a formal charging document. Sheppard Pratt staff permit the police to access plaintiff's ward of the hospital to serve him. Plaintiff is supposed to be discharged four days later. However, Sheppard Pratt is able to hold him long enough to allow the police to arrive and arrest him for threatening a public official.
The plaintiff files this case against Anne Arundel Medical Centers and the doctors and social workers he encountered. He alleges that they did not act in good faith in contacting the police and in allowing them to interrogate him.
There is also a claim against Sheppard Pratt and the staff members, alleging that they had no knowledge as to his propensity for violence, that he never made any threat to physically injure anyone while at Sheppard Pratt, and that he was under the influence of psychotropic medications that impaired his functions during the interrogations. As a result of the arrest and incarceration following his charges, plaintiff has become increasingly suicidal and anti-social.
Additional Comments
The seminal case in this area is a California case called Tarasoff v. Regents of the University of California. In this case, parents sued the therapists of a man claiming they had a duty to warn their daughter (and the authorities) of the danger posed to her by one of the therapists' patients. The man told the therapist of his intent to harm a young woman who was later tragically killed by the patient. The court ruled that when a therapist reasonably believes that a patient presents a danger of harming another person, that therapist has an obligation to use reasonable care to protect the intended victim against such danger. This would include warning the intended victim or notifying law enforcement officials.
This is unquestionably a tragic case. This man has been through a great deal. But this lawsuit is going to be an uphill fight. Too much of the claim is going to be he said/she said and I think the plaintiff's lawyers are going to struggle to find experts to support their claim.
Jurisdiction Defendants
Anne Arundel Medical Center
Social worker at AAMC
Doctor at AAMC
Nurse at AAMC
Sheppard Pratt Health System, Inc.
Social worker at Sheppard Pratt
Psychiatrist at Sheppard Pratt
Hospitals Where Patient was Treated
Anne Arundel Medical Center
Sheppard Pratt
Negligence
Negligent hiring, training, and supervision of employees
Disclosing confidential patient information to law enforcement in bad faith
Permitting police to interrogate the plaintiff in a locked room without an attorney or guardian despite his major depression and influence of psychotropic drugs
Specific Counts Pled
Medical Malpractice, Negligence
Plaintiff's Experts and Areas of Specialty Getting a Lawyer for Your Medical Malpractice Claim
If you've suffered due to the negligence of a doctor or hospital staff, our firm can help you get the justice and compensation that you are entitled to. Call us today and speak to a medical malpractice attorney at (800) 553-8082 or get a free online case review.
More Malpractice Claim Information
Other cases recently filed against Sheppard Pratt
Cases filed in 2017 in Anne Arundel County