Blood Clot Misdiagnosis Lawsuit in Easton
Auman v. Eastern Shore Emergency Medicine Physicians, LLC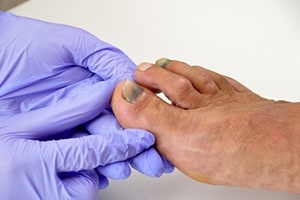 This is a failure to diagnose and treat blood clot lawsuit filed by a woman in Talbot County against the University of Maryland Medical System and Shore Health System. The resulting injury is a leg amputation of a 40-year-old woman. This lawsuit was filed in Health Claims Arbitration on March 3, making it the 109th medical malpractice claim filed in Maryland in 2017.
Summary of Plaintiff's Allegations
A 40-year-old woman goes to Easton Memorial Hospital in Talbot County with right ankle and foot pain for months that is increasing. She has a history of blood clotting disorders and diabetes. She rates her pain at a 9/10, and a physical exam reveals tenderness and "cool" toes. Her ankle, leg, and knee are all normal. The woman is diagnosed with diabetic neuropathy (nerve damage associated with diabetes) and told to follow-up with her primary care physician to obtain a referral to a podiatrist. She is given Oxycodone and multiple prescriptions for her diabetes, hypertension, allergies, nerve pain, high cholesterol, and depression.
Two days later, the plaintiff goes to Queen Anne's Hospital with right ankle/foot pain. An X-ray of her right foot is negative for any abnormalities except a tiny calcaneal spur. At this point, the plaintiff is unable to bear weight on her foot and there is welling around her leg and ankle. She is administered anti-inflammatory medications and given a prescription for Tramadol.
The next day the woman goes back to Easton Memorial Hospital due to the pain in her right foot. She is diagnosed with a possible vascular occlusion (blood vessel blockage) and told to stop taking the Tramadol. She returns again the next day via ambulance as her foot turns purple. This time, she is diagnosed with diabetic foot care, right foot pain, and musculoskeletal pain. She is given crutches and told to follow-up with a vascular lab and her primary care provider.
However, one more day passes, and the plaintiff goes back to Easton Memorial Hospital with discoloration and pain in her right leg, ankle, and foot. An occlusion (blocked or closing blood vessel) is seen in her right distal posterior tibial artery and right dorsalis pedis artery. She is transferred to Baltimore Washington Medical Center (BWMC) for treatment. While the woman is at BWMC, a blood clot is discovered in her abdomen. This blood clot had been breaking off and traveling into her right lower extremity. Unfortunately, the staff is unable to save her right leg, and the plaintiff has a below-the-knee amputation.
Additional Comments
Defendants are in a strange spot in this case because they have to say that her presentation and symptoms were not significant enough to warrant more care But, at the very same time, they are going to argue that she was too far gone when she first visited Eastern Memorial to save her leg. Technically, these arguments are not mutually exclusive but it is an extremely tough needle to thread.
This is a failure to diagnose and a failure to treat case. The failure to diagnose is the first visit. The second visit is a failure to treat the diagnosis that they seem to have made.
Any plaintiff's case like this where the plaintiff has diabetes provides defendants with opportunities to make causation arguments.
To put it mildly, Talbot County is not known for big jury verdicts in medical malpractice cases. Certainly, Talbot County has become more cosmopolitan over the years. But that has not yet translated well into jury verdicts. On the other hand, there are not that many lawsuits filed in Talbot County and most malpractice cases settle. So the settlement value may be increasing even if the jury verdicts are not showing it.
Jurisdiction Defendants
Eastern Shore Emergency Medicine Physicians, LLC
Family Care of Easton, LLC
Family practice doctor at Easton Memorial Hospital
Three ER doctors at Easton Memorial Hospital
Shore Health System, Inc.
University of Maryland Community Medical Group, Inc.
University of Maryland Faculty Physicians, Inc.
University of Maryland Medical Associates, LLC
University of Maryland Medical Center
University of Maryland Medical Regional Professional Services, LLC
University of Maryland Medical System Corporation
University of Maryland Medicine ASC, LLC
University of Maryland Physicians, P.A.
University of Maryland Shore Regional Health, Inc.
University of Maryland Shore Surgery Center at Queenstown, LLC
An ER doctor at Queen Anne's Hospital
Hospitals Where Patient was Treated
Easton Memorial Hospital
Baltimore Washington Medical Center
Negligence
Failing to timely and properly examine the plaintiff
Failing to take a complete medical history
Failing to timely and properly diagnose plaintiff's blood clotting disorder and blood clot
Failing to properly refer plaintiff to medical specialists
Failing to develop proper protocols to prevent amputation of the right lower extremity
Failing to properly manage and monitor the plaintiff's medical condition
Failing to assess the risk of loss of the plaintiff's lower extremity
Specific Counts Pled Plaintiff's Experts and Areas of Specialty Getting a Lawyer for Your Failure to Diagnose Malpractice Claim
If you've suffered due to the negligence of a doctor or hospital staff, our firm can help you. You are entitled to justice and compensation for the harm that has been done to you, and Miller & Zois has a very long history of results in medical malpractice cases, earning large verdicts and settlements. Call Miller & Zois today to talk to an attorney who can help you at (800) 553-8082 or get a free online case review.