Amputation Site Neuroma Lawsuit
Kurfurst v. Howard County General Hospital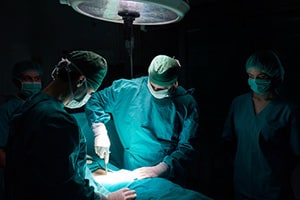 This medical malpractice claim was filed in Howard County after right leg amputations and inadequate wound care caused a painful neuroma. It was filed in Health Claims Arbitration on March 13, 2018, and it is the 125th medical malpractice case filed in Maryland this year.
Summary of Plaintiff's Allegations
A man underwent a right below-the-knee amputation at Howard County General Hospital. One month later, the man was still having problems with drainage and pain in his stump. He was diagnosed with a surgical site infection and underwent a second surgery to amputate his right leg above the knee.
After the second amputation, the man continued to experience stump pain. After repeated follow-up appointments with his surgeon and primary care physician, the man was referred to a vascular surgery specialist. Six months after the man's first amputation, the specialist diagnosed him with a neuroma. In other words, the amputations caused a painful and permanent nerve compression. There is no definite cure for a neuroma, so the man is only receiving pain management treatment.
Additional Comments
A neuroma is a thickening of a nerve stump in the area of scar after an amputation.
Nerves are cut when a limb is amputated. This can cause neuromas. The nerve tries to send out branches to find the other end of the nerve. That will no longer work unless the doctors surgically repair the nerve and line it up perfectly. So the nerve grows in twisty pieces. This is a neuroma. Believe it or not, a neuroma is considered a tumor. It's an enlarged area on end of the nerve. For this man, it is likely that impact feels like an electric jolt.
There are surgical options for a neuroma. The surgeon will go in and track the nerve up to an area where they cut the nerve off higher where it is more protected so that it does not shock the patient on contact. If the pain is not extreme, patients try corticosteroid therapy, pain medication and nerve stimulation.
Not all neuroma are avoidable. But surgeons are told to "cut the nerve and pull it moderately to induce retraction of the nerve ending away from the muscular-cutaneous scar." It is also important during postop to mobilize the patient's scar "to prevent the scar from adhering to underlying tissues."
This man, who has suffered so much, may struggle to find a medical expert to support this claim.
Jurisdiction Defendants
A general and vascular surgeon
Howard County General Hospital, Inc.
Hospitals Where Patient was Treated
Howard County General Hospital
Negligence
Failing to properly treat surgical wounds to prevent neuroma at the amputation site.
Failing to provide adequate diagnostic procedures and tests.
Failing to provide appropriate treatments to address the deteriorating condition of the claimant's stump.
Specific Counts Pled
As a direct result of the defendants' negligence, the claimant developed a painful neuroma, incurred medical expenses, and continues to undergo additional medical and surgical treatment.
Plaintiff Firm/Attorneys Getting a Lawyer for Your Malpractice Claim
Our firm handles malpractice cases of amputees, including a recent $5.2 million verdict. Call us at (800) 553-8082 and speak to one of our medical malpractice lawyers who can help you. You can also get a free online case review.
More Malpractice Claim Information