Delayed Thrombosis Treatment Amputation Lawsuit
Knott v. Wexford Health Sources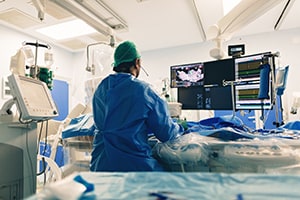 This medical malpractice claim was filed in Washington County after a man suffered undiagnosed and untreated blood clots in his left leg, ultimately requiring a left leg amputation. It was filed in Health Claims Arbitration on March 12, 2018, and it is the 118th medical malpractice case filed in Maryland this year.
Summary of Plaintiff's Allegations
A 47-year-old man developed left foot numbness and pain while he was incarcerated at the Maryland Correctional Training Center (MCTC). A nurse diagnosed the man with a muscle sprain.
Two weeks later, the man returned for another evaluation. Even though his left foot pain and numbness persisted, the medical records from the evaluation do not mention a pedal pulse exam. After another four days, the man returned again for a toenail clipping. The medical staff recorded that his nails were "thick with fungus, discolored and misshapen." In spite of these new symptoms, the records include no mention of a left leg examination.
The man had two more evaluations over the next two weeks. During each appointment, he complained of cold feet and severe left leg pain. At first, the man was prescribed Cimzia, and anti-inflammatory medication, and released. After his pain became so severe that he had difficulty moving his left leg, a nurse finally gave him a proper examination. The nurse noted the man's left leg was significantly colder than his right, the skin was bluish-brown in color, and his left pedal pulse was thready and distal.
One month after he first complained of foot pain and numbness, the man was transferred to Meritus Medical Center. An arterial Doppler study revealed blood clots in three of the major arteries in his left leg. The man was transferred again to Washington Medical Center, where it was determined that the man required a left leg amputation. The amputation surgery later occurred at Bon Secours Hospital.
Additional Comments
Thrombus is the medical term for the type of blood clot that the man suffered from. Specifically, a thrombus is a form of blood clot that forms in the body's vascular system and inhibits blood flow.
When a patient is showing symptoms of diminished blood flow to the legs or feet, the first, most basic assessment is a pedal pulse exam. Just like a pulse can be felt on the neck or wrist, medical professionals can find a pedal pulse on the top of the foot. A weak pedal pulse in a patient with an otherwise healthy heart rate is symptomatic of a blood clot in the affected leg.
If these facts are mostly true, this is the best prison malpractice case we have seen since we started summarizing these lawsuits. It is hard to envision how Wexford argues that a Doppler study should not have been done sooner.
Jurisdiction
Washington County, presumably
Defendants
Wexford Health Sources, Inc.
Three registered nurses
A physician's assistant
Hospitals Where Patient was Treated
Meritus Medical Center
Washington Medical Center
Bon Secours Hospital
Negligence
Failing to properly evaluate and diagnose the claimant in a timely manner.
Failing to perform repeated vascular examinations.
Failing to order the appropriate tests to screen for vascular disease.
Failing to refer the claimant to a specialist.
Failing to review the claimant's medical history.
Failing to diagnose the claimant's serious and limb-threatening condition.
Specific Counts Pled
Medical Negligence - as a direct result of the defendants' negligent medical service, the claimant suffered the loss of his left leg.
Violation of the Eighth Amendment to the United States Constitution - deliberate (which we have never seen in a malpractice case and will almost certainly get dismissed before trial)
Getting a Lawyer for Your Malpractice Claim
Have you suffered a hospital injury due to the negligence of a doctor? Miller & Zois can help you. Call us at (800) 553-8082 and speak to one of our medical malpractice attorneys who can help you or get an online case review.
More Malpractice Claim Information