Sexual Assault Claim Against Kaiser Physician
Plaintiff v. Kaiser Permanente Kensington Medical Center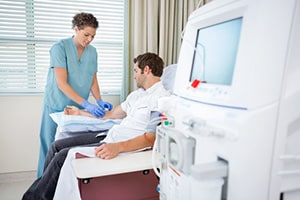 This medical malpractice claim was filed in Prince George's County after a pain management specialist performed an inappropriate physical exam. It was filed in Health Claims Arbitration on March 8, 2018, and it is the 115th medical malpractice case filed in Maryland this year.
Summary of Plaintiff's Allegations
A woman presented to an interventional pain management specialist at Kensington Medical Center to address her lower back, abdominal, and pelvic pain. The pain management doctor told the woman that he needed to perform a pelvic exam and asked her to bend over and place her hands on the examination table. After the woman complied, the doctor touched her clitoris and labia, inserted two fingers into her vagina, and then inserted his fingers into her rectum. He did so without any medical justification and without the woman's consent.
For at least eighteen months before this incident, four other women made allegations of sexual misconduct against the same pain management doctor. A variety of Kaiser staff members knew about the prior allegations, and yet they took no action to protect their patients. Knowing their pain management specialist was a suspected sexual predator, Kaiser should have banned him from performing unsupervised physical examinations.
Additional Comments
Over the past year, dozens of other patients have accused the pain management specialist of sexual misconduct. The plaintiff's attorneys in this claim filed two other claims on the same day, all of which make allegations against the same defendant. Our law firm, Miller & Zois, has filed what we thing is clearly the most serious case against Kaiser and Dr. Williams.
An employing organization, such as Kaiser, is responsible for the damages caused by their on-the-job employees. When a medical professional is accused of sexual assault, the accepted standard of care dictates that the physician must be chaperoned in the presence of a patient, or better yet, suspended from clinical practice altogether. It was Kaiser's duty to make sure the accused doctor was thoroughly supervised at all times when he was in contact with a patient.
Several years after the incident described in this claim, the accused doctor had his medical license revoked. The Maryland State Board of Physicians charged him with "immoral and unprofessional conduct in the practice of medicine."
Are you ready for a crazy fact? Dr. Williams has an estranged identical twin brother named Ryan. They both went to the same college and the same medical school. They were both star athletes in college. Ryan is a colorectal surgeon at the Cleveland Clinic, which is very big time. Sure enough, Ryan left the Cleveland Clinic after similar sexual assault allegations were filed again him. Insane, right?
Jurisdiction Defendants
Mid-Atlantic Permanente Medical Group, P.C. d/b/a Kaiser Permanente Kensington Medical Center and Kaiser Permanente Largo Medical Center
Kaiser Foundation Health Plan of the Mid-Atlantic States, Inc.
Bryan Williams, M.D., interventional pain management specialist
Negligence
Failing to implement safety protocol after receiving reports that the defendant pain management specialist had performed abusive physical exams.
Failing to provide a chaperone or remove the defendant pain management specialist from clinical practice.
Failing to protect the claimant from a suspected sexual predator.
Failing to inform the claimant about allegations made against the defendant pain management specialist.
Specific Counts Pled
Battery
Intentional Infliction of Emotional Distress
Negligent Supervision and Retention
Negligence and Negligent Misrepresentation
Fraudulent Concealment
Getting a Lawyer for Your Malpractice Claim
Have you suffered a hospital injury due to the negligence of a doctor? Miller & Zois can help you. Call us at (800) 553-8082 and speak to one of our medical malpractice attorneys who can help you or get an online case review.
More Malpractice Claim Information