Nursing Home Negligent Opioid Administration Lawsuit
Metcalf v. Lorien Riverside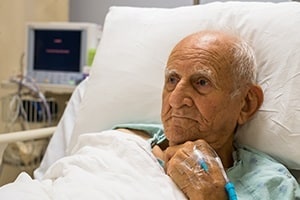 This nursing home negligence claim was filed in Hartford County against Lorien Riverdale after a woman was not properly monitored after she was administered an opioid medication. It was filed in Health Claims Arbitration on March 29, 2018, and it is the 150th medical malpractice case filed in Maryland this year.
A nursing home fall lawsuit against Lorien at Turf Valley after a woman died after a hip fracture
Summary of Plaintiff's Allegations
Early in the morning, a nurse administered Oxycodone to a nursing home resident. During a room check one hour later, the nurse reported that the woman was alert and responsive. When the nurse returned to the woman's room shortly thereafter in order to administer another medication, she was told that the woman was in the process of being changed and cleaned. The nurse was not able to administer any medication to the woman at that time.
Fewer than ninety minutes after the Oxycodone was administered, the woman's husband arrived at the nursing home and found his wife to be lethargic and unresponsive. He called for a nurse, who observed that the woman was difficult to arouse, minimally responsive to stimuli, and had pinpoint pupils. Twenty minutes went by before a physician arrived and gave an order for Narcan to be administered to the woman. The Narcan wasn't actually administered for another forty minutes, and it had little effect on the woman.
EMS was contacted and the woman was transferred to Upper Chesapeake Medical Center via ambulance. The woman was given another dose of Narcan upon arrival, after which her heart rate dropped. The Upper Chesapeake facility could not handle the level of care that the woman required, so she was transferred to the University of Maryland Medical Center. She was admitted into the Neurosciences Critical Care Unit and was discharged after two weeks of care.
Additional Comments
Another path the plaintiffs' lawyers could have taken would be to file an opioid lawsuit against Purdue Pharma or whoever made the Oxycodone. These lawsuits claim that that the drug companies looked away while ridiculous amounts of prescriptions were being written for people that certainly did not need it. But this path would be pretty insane given that there is an easier path to liability and this is hardly the classic case to make that argument.
There is also an MDL class action lawsuit pending in federal court in Ohio filed by third party payors, mostly municipalities. This litigation focuses on the "Big Three" distributor defendants -- AmerisourceBergen, McKesson Corp. and Cardinal Health - that allegedly distribute more that 80% of the opioids at issue in these cases.
The relatively short complaint in this case does not dig into the depth of the plaintiffs' injuries. If the physical injuries are not permanent, this case is more difficult because Harford County is not known for runaway jury verdicts, particularly in cases with limited injuries.
The claimant exhibited all three classic signs of an opioid overdose: tiny pupils, unconsciousness, and slow breathing.
Oxycodone is a narcotic used to treat moderate or severe pain. Particularly in older patients, oxycodone has the potential to cause a variety of serious side effects including extreme drowsiness, difficulty breathing or swallowing, chest pain, and changes in heartbeat.
Narcan is the brand name for naloxone, a medication used to rapidly reverse the effects of an opioid overdose. It's not a long-term cure, but it can block the brain's opioid receptors for thirty to ninety minutes, restoring normal breathing just long enough for a person to seek medical attention.
Jurisdiction Defendants
Lorien Nursing and Rehabilitation Center of Riverside, Inc. d/b/a Lorien Riverside
Two EMTs
Hospitals Where Patient was Treated
Upper Chesapeake Medical Center
University of Maryland Medical Center
Negligence
Failing to properly monitor the claimant after an opioid medication was administered.
Failing to contact a physician or take appropriate emergency action in a timely manner.
Specific Counts Pled
As a result of the defendants' negligence, the claimant suffers from a debilitating physical injury and emotional pain.
Getting a Lawyer for Your Malpractice Claim
Have you suffered a hospital injury due to the negligence of a doctor? Miller & Zois can help you. Call us at (800) 553-8082 and speak to one of our medical malpractice attorneys who can help you or get an online case review.
More Malpractice Claim Information