Uterine Artery Embolization Lawsuit
Fraction v. Good Samaritan Hospital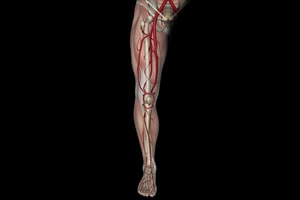 This medical malpractice claim was filed in Baltimore City after a woman suffered unlikely complications of a uterine fibroid embolization procedure. It was filed in Health Claims Arbitration on March 12, 2018, and it is the 120th medical malpractice case filed in Maryland this year.
Summary of Plaintiff's Allegations
A woman's gynecologist referred her to a vascular radiologist for a uterine fibroid embolization (more commonly called a uterine artery embolization). This minimally invasive surgical procedure was meant to treat her complaints of excessive menstruation. After the surgery, the woman experienced nausea, vomiting, cramping pain, and pain in her right groin. She was administered pain medications and discharged from the hospital.
The woman's symptoms worsened over the next week and she developed right calf and thigh pain. At a follow-up visit with her vascular radiologist, the woman was noted to have "no palpable right femoral pulse," meaning that the doctor couldn't feel a pulse in her femur. The doctor sent the woman home with instructions to use a heating pad and take anti-inflammatory medications.
The pain in the woman's calf continued to persist. Several days after her follow-up appointment, the woman went to the Emergency Department at Good Samaritan Hospital. There, a CT scan showed a blockage in one of the arteries of her right leg. The blockage was caused by a cut in the artery, which presumably occurred during the woman's prior surgery.
After spending the night in the hospital, the woman underwent an exploratory surgery. A vascular surgeon confirmed the blockage and repaired the damaged artery. Postoperatively, the woman's pulses returned to normal in her foot and leg, but she continued to experience pain in her right groin and thigh. Another CT scan showed a hematoma in the area of her right groin. Two days later, the woman was discharged with a diagnosis of postoperative pain.
Mere hours after she left the hospital, the woman nearly fainted. An ambulance transported her to Sinai Hospital of Baltimore, where she was treated and discharged the following day. The woman's right thigh pain continued, and she additionally developed weakness, numbness, a shortened gait, and a burning sensation. Ultimately, the doctors at Sinai Hospital determined that she had a painful and permanent nerve injury.
Additional Comments
Uterine artery embolization is a general term used to describe two common interventional radiology procedures. The first is called uterine fibroid embolization. This is a specialized form of uterine artery embolization. It is used symptomatic uterine fibroids. This usually consists of heavy or painful periods and/or a frequent need to urinate. The second is uterine artery embolization, which is implemented to stop severe uterine bleeding. The plaintiff in this case likely had the latter procedure.
Specifically, the woman suffers from meralgia paresthetica - a numb, tingling, and burning outer thigh pain that occurs when the lateral femoral cutaneous nerve is compressed. This particular nerve is purely sensory, responsible for providing the skin's surface with sensation, so this type of nerve damage causes pain without affecting strength or range of motion.
How was a nerve in the woman's femur damaged during a uterine surgery? Using ultrasound guidance, the operating vascular radiologist accessed the woman's uterus through her right common femoral artery. Because the femoral artery runs alongside the lateral femoral cutaneous nerve in the groin, it is possible for the nerve to sustain damage when a fluoroscope is manipulated through the femoral artery.
Plaintiff's case is that the standard of medical care required the woman's physician should have performed a femoral arteriogram to ensure that her arteries were healthy and intact before concluding the surgery. If the doctor had done so, he would have recognized and corrected the surgical complication, preventing the woman from suffering permanent nerve damage.
Continuous leg evaluations after this procedure should have been done for pulse, color and temperature. Plaintiff's expert claims that they injury should have been caught sooner. Dr. Davidson says that if the woman's iliac artery occlusion and dissection would have been diagnosed sooner, her injury could have been avoided.
Uterine artery embolisms have a 95% success rate.
Plaintiff's expert admits that this is a very rare complication from uterine fibroid embolization.
There was a uterine artery embolism case in Florida some years back where the plaintiff suffered nerve damage in her leg. Plaintiff received a $1.5 million verdict.
Jurisdiction Defendants
A vascular and interventional radiologist
MedStar Good Samaritan Physics, LLC
Hospitals Where Patient was Treated
Good Samaritan Hospital
Sinai Hospital of Baltimore
Negligence
Failing to perform an adequate uterine fibroid embolization without causing injury to a femoral artery.
Failing to diagnose and treat the dissected artery in a timely manner.
Failing to perform a femoral arteriogram at the end of the uterine fibroid embolization procedure.
Failing to perform a more thorough workup after finding no palpable right femoral pulse.
Specific Counts Pled
As a result of the defendants' medical negligence, the claimant suffered severe, painful, and disabling injuries and incurred myriad medical expenses and financial losses.
Plaintiff's Experts and Areas of Specialty
Jon C. Davidson, M.D., radiologist. He is an Assistant Professor of Radiology at University Hospitals Case Medical Center. Dr. Davidson has special expertise in Vascular and Interventional Radiology. He is board certified by the American Board of Radiology with a subspecialty certification in Vascular and Interventional Radiology. He has been named as an expert in the past but is not a "frequent flyer" who has testified in hundreds of cases.
Getting a Lawyer for Your Malpractice Claim
Have you suffered a hospital injury due to the negligence of a doctor? Miller & Zois can help you. Call us at (800) 553-8082 and speak to one of our medical malpractice attorneys who can help you or get an online case review.
More Malpractice Claim Information