Sexual Assault Lawsuit Against Kaiser and Brian Williams
McAndrew v. Kaiser Permanente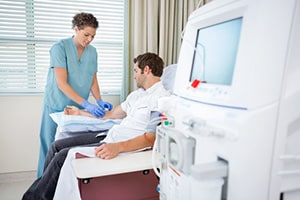 This medical malpractice claim was filed in Prince George's County after multiple pain management patients were sexually assaulted by their physician. It was filed in Health Claims Arbitration on March 8, 2018, and it is the 116th medical malpractice case filed in Maryland this year.
Summary of Plaintiff's Allegations
In this class action claim, three women report that a pain management physician at Kaiser Permanente sexually assaulted them during a physical examination. Each of the three women presented to the physician with complaints of lower back pain. Under the guise of a medical examination, the physician inappropriately inserted his fingers into each woman's vagina and/or anus without consent.
These are not the only women to come forward. A lot of these cases against Williams and Kaiser have already settled. Other patients had reported the physician for sexual misconduct long before any of these women came under his care, so Kaiser should have been supervising the physician closely to ensure that no harm came to his patients.
Instead, Kaiser minimized the women's complaints, refusing to acknowledge the abuse they suffered and refusing to provide them with any information about the doctor or the other allegations against him. One Kaiser employee went so far as to encourage the third woman to return to the doctor who had assaulted her, fraudulently telling her that rectal examinations were common during pain management physicals. Awful.
Additional Comments
The claimants justify their class action lawsuit with a statistical analysis of the potentially unreported instances of misconduct that the pain management physician could have perpetrated. Since the doctor examined hundreds, if not thousands, of patients in the five years that he worked at Kaiser, and given the high number of patients who have already reported sexual battery, the doctor likely abused hundreds of additional patients who haven't spoken up.
There have been a handful of other claims filed over the past year accusing the same pain management physician of sexual abuse, including this claim filed in January 2017. Today alone, this claim is one of three lawsuits filed by the same law firm against the same defendants.
As an employer, Kaiser is responsible for the damages caused by their on-the-job staff. When a Kaiser physician is accused of sexual assault, the accepted standard of care dictates that Kaiser must at the very least prevent the physician from spending any time alone with a patient. Kaiser could either assign him a chaperone or better yet, suspended him from clinical practice altogether. The evidence here is that they did this…a little bit.
Several years after the incident described in this claim, the accused doctor Bryan Williams had his medical license revoked. The Maryland State Board of Physicians charged him with "immoral and unprofessional conduct in the practice of medicine."
Jurisdiction Defendants
Mid-Atlantic Permanente Medical Group, P.C. d/b/a Kaiser Permanente Kensington Medical Center and Kaiser Permanente Largo Medical Center
Kaiser Foundation Health Plan of the Mid-Atlantic States, Inc.
Bryan Williams, M.D., pain management specialist
Negligence
Failing to implement safety protocol after receiving reports that the defendant pain management specialist had performed abusive physical exams.
Failing to provide a chaperone or remove the defendant pain management specialist from clinical practice.
Failing to protect the claimant from a suspected sexual predator.
Failing to inform the claimant about allegations made against the defendant pain management specialist.
Specific Counts Pled
Battery
Intentional Infliction of Emotional Distress
Lack of Informed Consent
Negligent Supervision and Retention
Negligence and Negligent Misrepresentation
Fraudulent Misrepresentation and Concealment
Getting a Lawyer for Your Malpractice Claim
Have you suffered a hospital injury due to the negligence of a doctor? Miller & Zois can help you. Call us at (800) 553-8082 and speak to one of our medical malpractice attorneys who can help you or get an online case review.
More Malpractice Claim Information